iPod Shuffle vs Sandisk MP3
Sandisk gives Apple the shuffle!
I know that this isn't the ordinary review covering iPAQ's but I truly got sucked into the iPOD Shuffle excitement. Being the gadget geek that I am, I heard the announcement at MacWorld last week concerning the new iPOD Shuffle. My wife enjoys jogging on our new treadmill and asked me to look for a walkman so that she could jog and listen to music. What perfect timing, Apple announces this new 512MB or 1GB player the size of a pack of Trident gum and my wife needs some tunes for her jog. So I went online and forked out the $99.00. Unfortunately, that was one of the worst decisions I have made in a long time, thanks to Sandisk.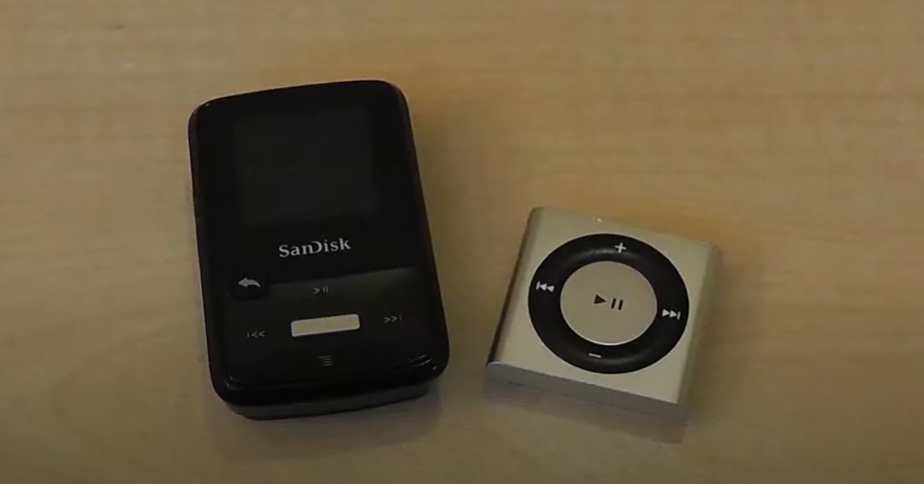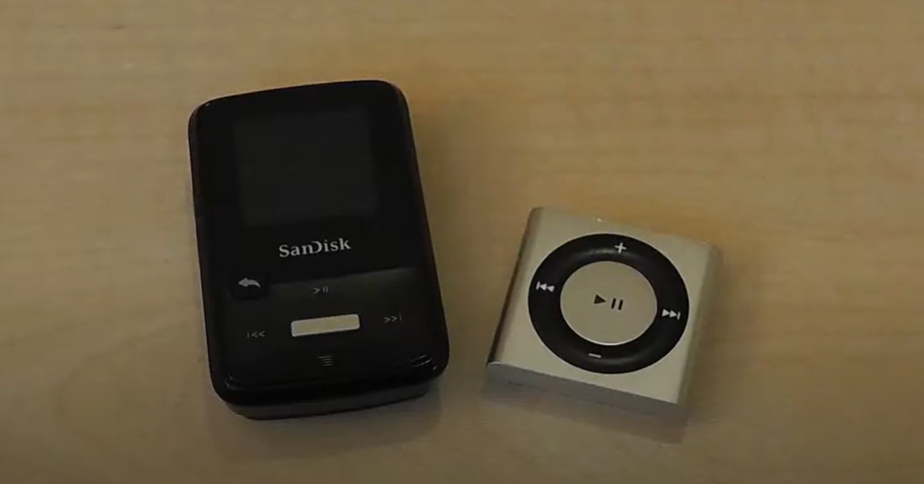 The two iPod Shuffles are Apple's smallest, lowest-capacity, and cheapest iPods to date. Measuring 3.3″ x 0.98″ x 0.33″ and weighing only .78 ounces, each glossy white plastic shuffle is accurately touted as the size of a package of chewing gum and the weight of four quarters – a significant drop in size from last year's cell phone-sized iPod mini. Neither shuffle is capable of holding the typical person's entire music collection: the $99 model stores around 120 songs (approximately 10 CDs), while the $149 model can fit roughly 240 songs (20 CDs), depending on the tracks' size and compression. As the title says its a "shuffle" which means you have no display, no equilizer and no easy way to get to the 221st song on the shuffle, so basically you have to play your songs in random order. My thumb was getting tired since I was looking for that nice and peaceful song while I was resting, unfortunately I was stuck listening to Motley Crew, a song I listen to when working out. I will say one thing – the lack of controls means that there's also a lack of any adjustable equalizer. Really, it's just a normal plain jane MP3 player. If you really want your money's worth why not take a look at Sandisk's new MP3 players? After reading this review you'll realize Apple is really good at causing hype and in this case delivering a product that just doesnt compare to the competition.Well last week my iPOD Shuffle showed up and first impressions are that it's definitely sleek, and sexy. All you get in the package is the shuffle, the lanyard, an extra USB plug cap for those who don't feel like walking around with it hanging around their neck, two white Apple stickers and the iTunes set up disk. Also enclosed is a laminated card which explains the controls and what the embedded red, amber and green LEDs on the front and back of the Shuffle mean (battery levels). There's no power charger, it gets its juice from your USB slot when it's plugged in. If you have a Windows PC the shuffle will look just like another drive like any of the number of other flash-based players out there.